ACADEMIC BIO: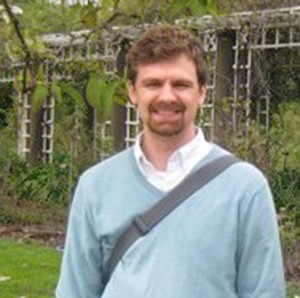 (copy for public use)
Jesse W. Torgerson received his BA from Biola University, and both his MA and PhD from the University of California, Berkeley. His teaching and research interests are in the medieval period with a specialty in the East Roman Empire known as the "Byzantine Empire," animated in particular by exchanges and interactions between the societies and cultures of Europe and the Mediterranean basin.
His research projects revolve around the creation and transfer of historical knowledge in the Byzantine and Carolingian empires of the ninth century.
His current book project re-creates the dramatic mid-ninth-century political context surrounding the re-editing of a famous Byzantine history of the universe, the Chronography (or Chronicle) of George Synkellos and Theophanes the Confessor.
MY VOCATION:
I have always been fascinated by the mysteries of human experience, and over the course of my undergraduate education my curiosity came to find a consistent playing field in the Byzantine and Medieval past.
I pursued a doctorate in the history of the Byzantine Empire (the 'Medieval' Roman Empire), during which I expanded this specialty into trans-disciplinary work in the Medieval West and in Late Antiquity, and into cross-disciplinary work in the History of Art and Manuscript Studies.
I am thrilled to have found an intellectual home in Wesleyan's College of Letters (the 'COL').
In the COL's collaborative pedagogy I draw on my current scholarship and my own undergrad experience in the Torrey Honors Institute and at the Centre for Medieval and Renaissance Studies.
I am not alone in thinking that in such communities, characterized by intellectual generosity and a pursuit of the "educated imagination", lies the future of the humanities.
As a teacher-scholar of history I convey how history has been done, and how to do history.
I don't want my students to re-produce the story I tell them, but rather to actively learn how to re-tell the story of the past in their own voice through questions, insight, and analysis.
My goal is for students to bring that voice into the conversation of scholars, past and present.
In my classes, we work on history as a habit of mind, a rhetorical narrative, a set of questions, and a corresponding set of multiple ways to answer those questions.
Together, we work to actively engage the intersection of "the historical past" and "the practical past" by studying and conveying the scant remains of a constructed past into a collage of interpretations, which we synthesize, asserting that this synthesis — for all its flaws — communicates something trustworthy about past reality, into our shared present.